Welcome to
Amber

, software for

organisations

who care about health, safety and employee well-being.

Get ready to build a better culture, improve communication and record lessons learned. Amber Safety is a technology tool designed for OHS that will transform workplace safety and training. Upskill your safety team today with design thinking resources. Amber Safety will inspire better communication. Using Amber Safety creative resources you will increase the participation of workers and leadership when talking about health and safety risks.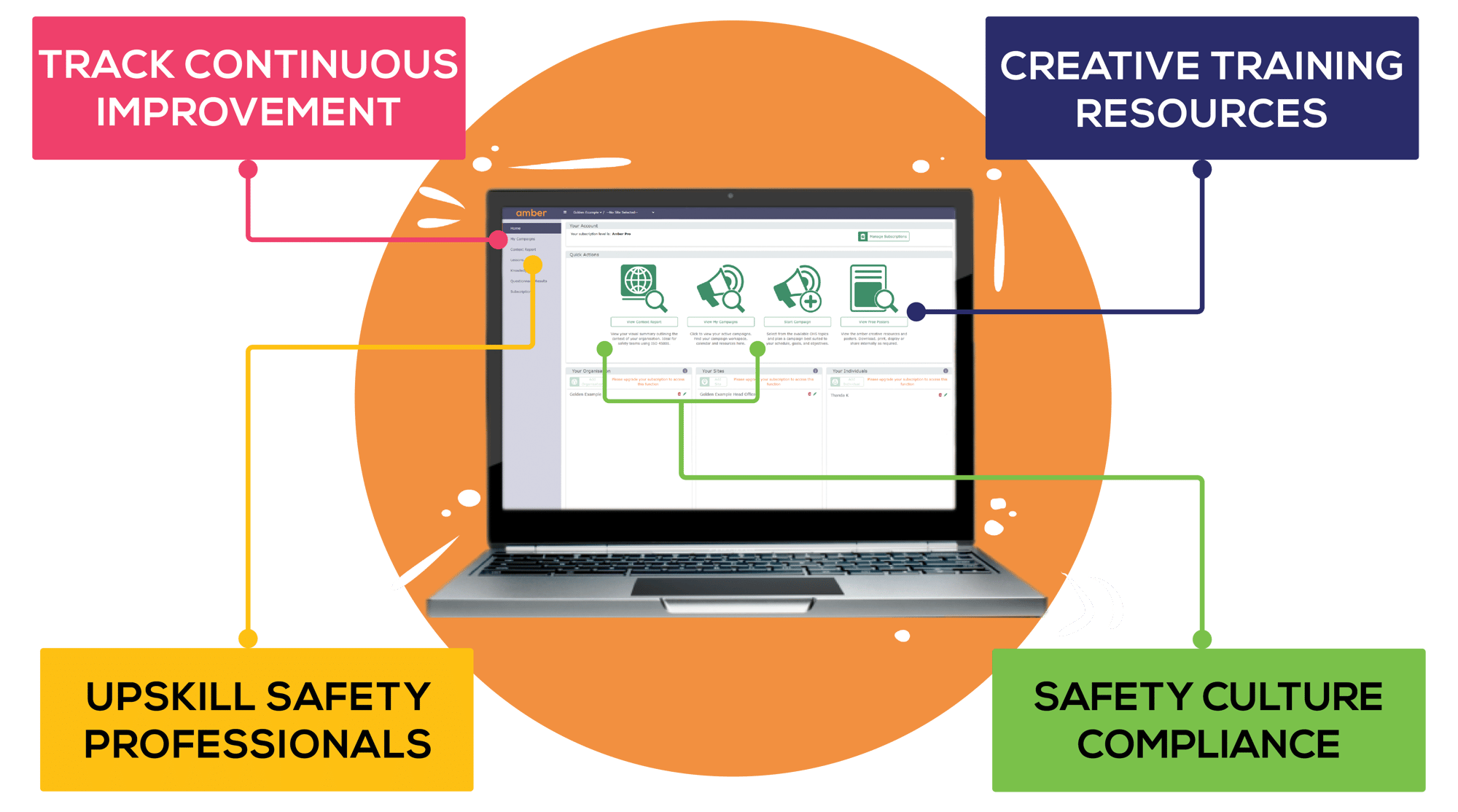 Make your
workplace

safer.

Amber Safety is Edtech software designed for safety professionals working in high-risk work environments. Amber Safety provides creative training resources, supports safety culture compliance and tracks continuous improvement. Our resources and safety posters will help safety teams make workplace training fun and engaging. There is no need for consulting high-fees anymore. Safety teams are now empowered with ready-to-run safety awareness campaigns. Add creativity and innovation to your health and safety communication strategy, with Amber Safety.
Change the way your organisation

thinks

about health and safety communication and culture.

Amber software is inspired by ISO 45001 and legal frameworks.
What We Do
Amber Safety ready-to-run campaigns and workshops are designed to facilitate worker &
leadership participation and consultation

!
The campaign dashboard includes tasks, calendars, visual safety posters, how-to-guides, toolbox talks, feedback sheets, attendance templates and access to the knowledge zone for self-paced learning.
// 01 Compliance
Document worker and leadership insights and record lessons learned. Build a body of evidence for reports and audits. Amber Safety helps you track continuous improvement.
// 02 Culture & Training
Amber Safety is designed for safety professionals looking to bring life, innovation and creativity into their communication practice and training. We empower you to build a great place to work. A place that cares about health and safety.
// 03 African
Phase one of Amber Safety is built for Africa. We focus one larger labour, mining safety and community engagement. The creative resources include female representation.
A MARKERTING FAVOURITE
Brand, edit and download creative health and safety posters.
Amber Pro and Amber Safety Teams subscriptions allow auto-branding of safety posters. PDF print sizes from A1-A6 including PNG options for digital use. Explore the free safety posters today.
Create a free one-pager visual summary outlining the scope and context of your organisation. Designed for safety teams implementing ISO 45001:2018.
Toolbox
Talks
Keep talking about health and safety.
Download and print, ready-to-run creative health and safety campaigns and posters. Amber Pro users can access the full library PLUS brand and edit the posters.
Recognition
Celebrating
Amber
We are proud of the impact that Amber Safety is making in Africa.
Awarded Best Health and Safety Leadership Workshop 2023

Your presence contributed significantly to the prestige of the conference in the Young Professionals industry in Southern Africa, your presentation set the scene for the topic of the conference, and we look forward to working with you again in the near future.

Congratulations to our Creative Director Lindy Scott on being named one of Top 200 Young South Africans in the Mining and Manufacturing category.

Congratulations to our Creative Director who won the prestigious AfriSafe Under 40 Shining Star Award.

Congratulations to our founders for being selected for Africa's Brightest Young Mind 2021 cohort.